How to Download and Read Your eBook
Read all Instructions!
Our Haircutting eBooks are published for viewing in Adobe Acrobat Reader (.pdf).
You must have Adobe Acrobat Reader to read "Haircutting Secrets Revealed" eBook. If you don't have Adobe Acrobat Reader, or if your version is too old to open the eBook, (left-mouse) click on the link below to get it or to upgrade for free. Get Acrobat Reader FREE.
This will open a new browser page so you can continue reading this page. If you can't get the link to function, make sure you enable popups or allow scripts for this site in your browser.
Instructions for Downloading:
"Right mouse click" on the download link you will or have already recieved.
You'll see a menu like the one to the right open up.
(MAC users just click the link and hold down on the mouse button)
Choose "Save Target As..." (In IE browser) or "Save Link As..." (In FireFox browser).
A download screen (shown below) will appear asking you where you want to save the file. Choose "desktop" or some other place where you'll easily find it later.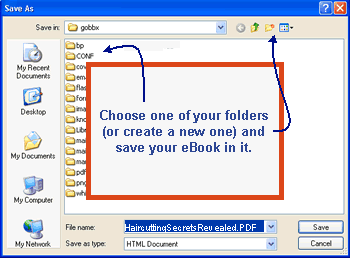 Once you have downloaded the file, go to your desktop (or to wherever you've saved it), and double click the file to open eBook. This should automatically launch Adobe Acrobat Reader and display your Haircutting Secrets Revealed eBook. That's it! Enjoy!
P.S.: You'll be able to print out the eBook or parts of it (See Printing eBook tutorial). You can't make changes to the eBook and you can't copy portions of text or images from it.